Bifrost Talks – Webinar on risk prioritization in the new business context
Apr 23
Join Nordic Innovation House – Silicon Valley and Kromatic for the first Bifrost Talks on how to prioritize risk in the new business context.
Day: Thursday 23rd of april 2020
Time: 17:00 CET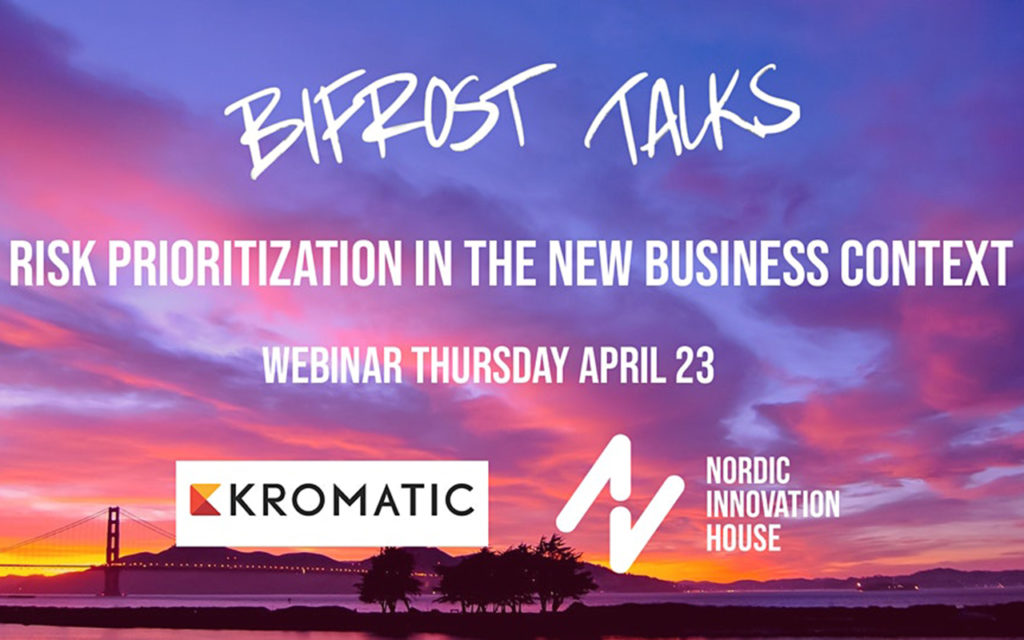 In this webinar, we will be talk about the importance of tackling the risks your company is facing in these trying times. Most importantly, we'll talk about how to prioritize which risks you spend time mitigating. The most challenging economic environment of our lifetimes is now, and we need to figure out how to survive AND thrive.
Sign up today in order to recieve a webinar link the day before the webinar. We look forwards e-seeing you on our first Bifrost Talks!
———————————————
BIFROST TALKS – Is a series of short, practical and hands on webinars hosted by Nordic Innovation House – Silicon Valley together with our partners, with a purpose to provide you with guidance in how to find ways to cope and succeed in the current situation

This is the first Bifrost Talk of three. The following two talks will be held at april 30th and the 7th of may.
Read more about Susanne Nejderås, head of operations for Smart Textiles, and her assignment at Nordic Innovation House.
Read more about Science Park Borås (in swedish only)