Smart Textiles Showroom
Smart Textiles Showroom is a place for meetings and knowledge. There are various textile materials and samples produced in Smart Textiles various projects, as well as from the machinery of the Swedish School of Textiles and other interesting materials purchased from external manufacturers.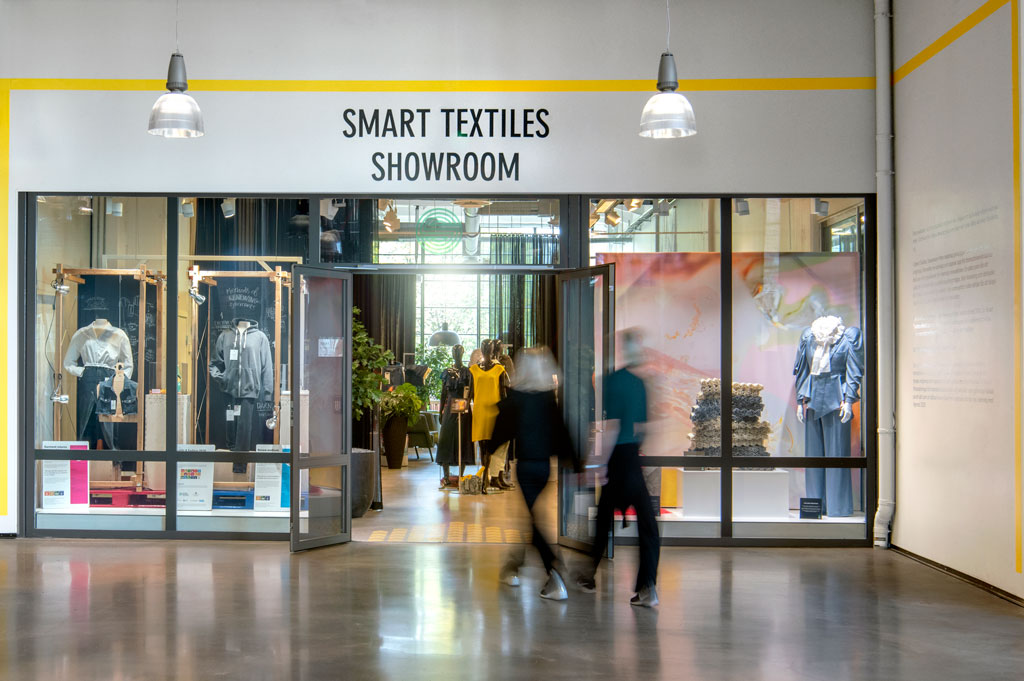 Smart Textiles Showroom is open Wednesday-Thursday 12.00-15.00 and Saturdays 12.00 – 16.00.
All visits need to be booked in advance by sending a request to smarttextiles@hb.se

Tours are added in connection with regular opening hours.
---
About Smart Textiles Showroom
Only in the first two years that the Showroom had open, over 14 000 visitors experienced the Smart textiles Showroom where both content and atmosphere breathe pure science fiction. But what is shown is research at the forefront consisting of highly real textile prototypes, samples and products on the market developed within Smart Textiles.
Here, research and prototypes are made available and presented in a completely new and groundbreaking way, both to inspire and show the way. It is a natural meeting place for companies, innovators, researchers and the general public who can get inspiration, ideas or just marvel.
Here is a darkroom with brilliant textiles of woven and braided fiber optics – an example of when the border between textiles and technology flows together and widens the concept of what textiles can actually be.
There are also licentiate and doctoral theses and magazines such as Collezione Uomo, WeAr Magazine, Close Up Interior and Future materials to browse through in the cozy lounge.
Temporary exhibitions and workshops are also something Smart Textiles Showroom is for. In short, the Smart Textiles Showroom serves as a place for innovation, inspiration and creativity.
---
Contact
Anna Berglund