Smart Textiles and Stanford University in a unique collaboration
A unique collaboration, the first of its kind, is now being initiated between Smart Textiles and Stanford University in the United States of America. It is through the Smart-shirt project that Smart Textiles is now starting its collaboration with the renowned university. The project is a feasibility study with the goal of developing a prototype of a knitted garment that can easily and reliably detect the illness symptoms of, for example, Covid-19 in essential workers or people with disability. The project is a collaboration between Smart Textiles, Chalmers University of Technology, Sahlgrenska University Hospital, Stanford Hospital, and Stanford University.
Unique collaboration with Stanford University
Smart Textiles, which is part of Science Park Borås at the University of Borås, has been operational for over a decade. The latest strategic focus is on internationalization and strengthening Smart Textiles as a self-evident international partner when it comes to smart textiles and sustainable materials.
That there is now in place a collaboration with a reputable university such as Stanford University, as well as the other research groups involved in the current project, is a result of the work based on the above-mentioned strategy and diligent efforts on the ground in Silicon Valley.
Susanne Nejderås is Director of Smart Textiles and the person who has initiated and succeeded with the application for the feasibility study on the Smart-shirt. She is currently working in Silicon Valley in the US through a grant from the Knut and Alice Wallenberg Foundation.
"My grant from the Wallenberg Foundation is a privilege and Vinnova's funding of the feasibility study enables us to now further develop Smart Textiles internationally. We are now taking a step further towards becoming the internationally leading innovation partner for textile renewal and for a better world," says Susanne Nejderås.
"The collaboration Smart Textiles has with Stanford University is very gratifying and I see it as a result of Smart Textiles's clear goals and long-term approach to internationalization," says Inger Gustafsson, director of Vinnova in Silicon Valley.
Through her grant from the Wallenberg Foundation, Susanne Nejderås has been able to work in Silicon Valley and build legitimacy and trust, she continues.
The Smart-shirt is to have reliable methods to measure the presence of illness symtoms
The importance of preventing the spread of infection in the context of the current Covid-19 pandemic and possible future pandemics is significant. There is a great need to be able to detect illness symptoms in essential workers in a fast, reliable, and sustainable way. Similar needs are also present in groups which may have difficulty in communication or, for various reasons, with being examined or managed in a traditional way in healthcare. These include, for example, those suffering from dementia, the elderly, or those with mental illness.
Based on the needs described, Smart Textiles, Stanford University and a number of other parties will now develop a prototype of a knitted garment that can monitor the appearance of symptoms of illness – the Smart-shirt.
The Smart-shirt will be manufactured using knitting technology that enables integrated sensors. This manufacturing technique will also allow the garment to sit tightly against the body and can be adapted to each person's body shape and size, which is necessary for the function of the built-in technology. The fit also helps to make the garment feel natural when worn, in contrast with other measuring instruments used in healthcare. The garment will be manufactured in one piece without sewing or cutting, making it durable with minimal material waste.
The Smart-shirt is intended to measure, among other things, body temperature, respiratory rate, and heart rate. It is also intended to detect coughing in its wearer.
The data collected is sent to a central server for measurement and analysis via algorithms in order to detect significant deviations from a normal state. The normal state is calibrated anew with each individual wearer of Smart-shirt. The prototype will be clinically evaluated at the Infectious Diseases Clinic at Sahlgrenska University Hospital.
The Smart-shirt will be developed through a consortium consisting of Smart Textiles, Chalmers University of Technology, Sahlgrenska University Hospital, Stanford Hospital, and Stanford University.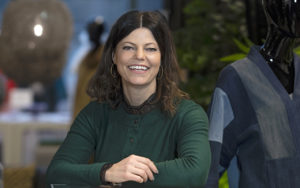 "Establishing an international consortium around an idea requires competent, experienced and credible partners who, through true believers, drive the work forward. I am overwhelmed and so proud that, at a difficult time like this pandemic, I have managed to set in motion a collaboration such as this. The project and the idea show that, despite different continents, we have common challenges that we all want to solve. It's extra exciting if we manage to do this together and thus make a difference," says Susanne Nejderås.
Nils-Krister Persson is Associate Professor and Senior Lecturer at the Faculty of Textiles, Engineering and Business at the University of Borås, the Swedish School of Textiles, as well as Smart Textiles, and will be participating in the project. He highlights Zehnan Bao and her research record as an example of the importance of the Smart-shirt project.
"Stanford has world-leading research. They have everything, but they do not have textiles and that's where we can contribute. Working together with Stanford University and Zhenan Bao's group shows the attractiveness of textiles and that we can solve interesting problems together," says Nils-Krister Persson.
"I think this paves the way for many other projects and I am sure it is only the first step and it will lead to more ideas on how to work together in the future."
Mats Tinnsten, Vice-Chancellor of the University of Borås, agrees with Nils-Krister Persson.
"This is a very exciting collaboration that can ultimately lead to many more rewarding collaborative projects," says Mats Tinnsten.