Textiles for deafblindness – one of several exciting EU projects
On May 7th, Science Park Borås organized a breakfast meeting on ongoing EU projects, as part of the information campaign My Europe. One of the projects coordinated by the University of Borås is SUITCEYES, which aims to make it easier for people with deafblindness to navigate using smart textiles.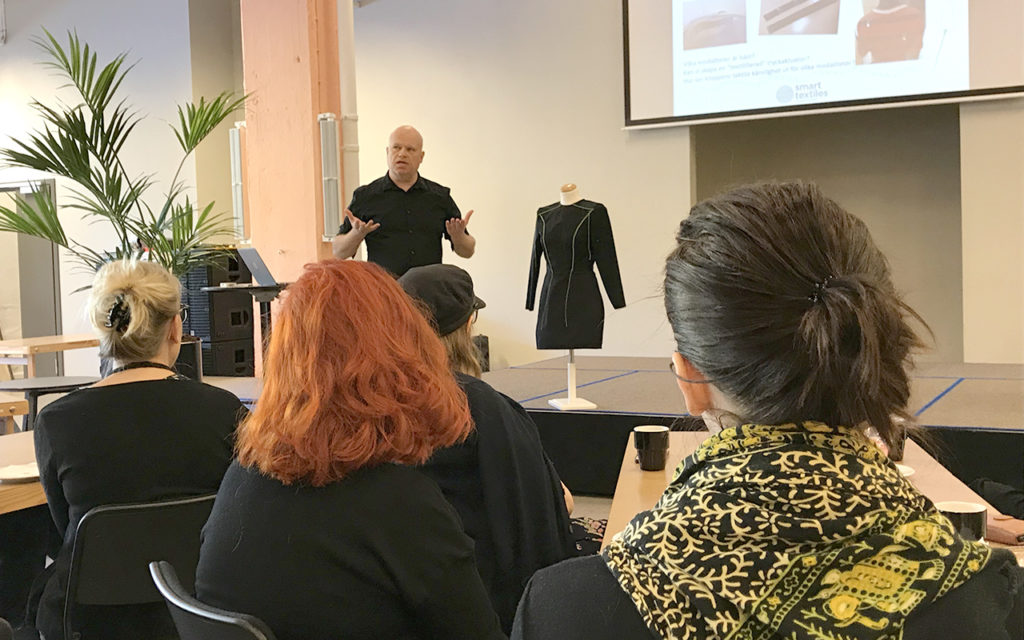 An estimated 2.7 million people have deafblindness in the EU. Associate Professor Nils-Krister Persson, who represents Smart Textiles in the project, showed how a prototype for aids could look like.
– People who have deafblindness usually communicate via sign language in their hands. Or through touches on the back of an interpreter. Now we are exploring the possibility of communicating via garments. By incorporating actuators in the garment that press on different points on the back or on the upper arms, the person should be able to get the information on how, for example, the room looks or knows who is coming. It will be a way to better navigate in life and keep your hands free, says Nils-Krister Persson.
Together with research colleagues in Greece, England, Germany and the Netherlands, the goal is to digitize haptic communication in textiles. The group has expertise in image analysis, electronics, semantics, disability science and psychophysics.
– Haptic is a central concept in the project and together we work to give textile active haptic properties in order to be able to transfer information, says Nils-Krister Persson.
Interviews with people with deafblindness
Nils-Krister Persson emphasizes that textile should be seen as a complement to human touch.
– We have just conducted extensive interviews with deafblind people and they say that human contact is the most important language form, but that they think that clothing is interesting because it has to be worn virtually all the time and that it could increase the mobility of this group.
The project is ongoing for three years and will be completed by the end of 2020/21. The goal is to be able to showcase a prototype that can be manufactured. On August 22, an international symposium on haptic communication will be arranged at the University of Borås. More information about SUITCEYES will then be available.
Muscels made of textile
Nils-Krister also presented the EU project Weafing with partners from several European countries who together will develop fabric that has built-in ability to change shape.
It is an electrically controlled textile composed of threads just like human muscles and acts by contraction also in the same way as human muscles.
Other EU projects that were highlighted during the breakfast meeting were Circular Hub, which is a platform for helping companies in the fashion textile and furniture industry to switch to circular business models.
Another project is Innovation Square, which aims to create innovations in the Swedish furniture industry and to utilize the innovation environment in Smart Textiles for the interior industry. Sweden participated this year for the third year in the information campaign My Europe.
The purpose of the campaign is to provide opportunities for EU-funded projects and business ventures to open up their doors and give the public the opportunity to discover and learn more about how EU money benefits society.
Read more about the projects:
Circular Hub
Innovation Square
SUITCEYES
Weafing
Article about EU funding (in Swedish) : EU-pengar gör nytta på högskolan
---