Smart Textiles in the spot light at TechTextil
For the sixth time Smart Textiles invited visitors to an exciting experience in its stand at TechTextil in Frankfurt, one of the world's leading technical textile fairs.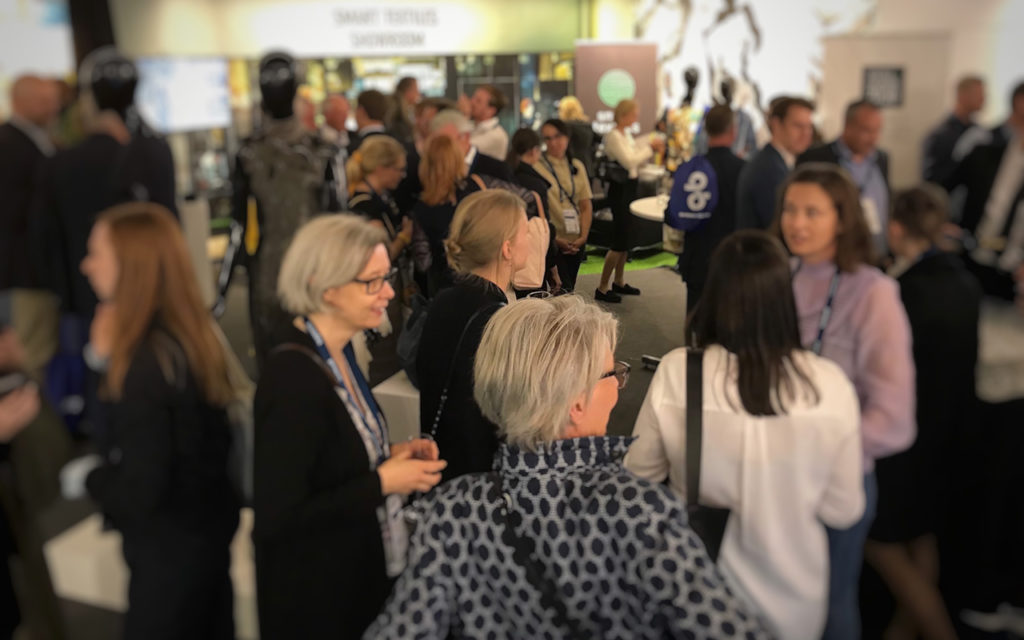 In the stand, Smart Textiles presented a mix of products, prototypes and research results. This year with extra weight in the field of sustainable textiles since the theme for this year's fair was sustainability. Results in health and medicine, architecture and interior were also shown, where the Swedish School of Textiles' research in changing pattern images attracted many curious visitors.
International media
Exhibition visitors – companies and institutes to students and journalists – visited the booth and was notibly curious about the booth with its beautiful dresses and exciting materials. Borås Tidning as well as German and Portuguese TV chose to report from the stand.
– It is always fun to have the opportunity to spread what we do together with our partners, especially at a large international fair that has such a high reputation in the industry. This year the media attention was extraordinary, which we see as a good rating for the work we put into the stand. But there were also several rewarding meetings that really felt like they could lead to future collaborations. For us, it is also part of our external monitoring where we learn from other actors in the industry and about the latest in materials and technologies" says Anna Berglund, project coordinator at Smart Textiles in Science Park Borås.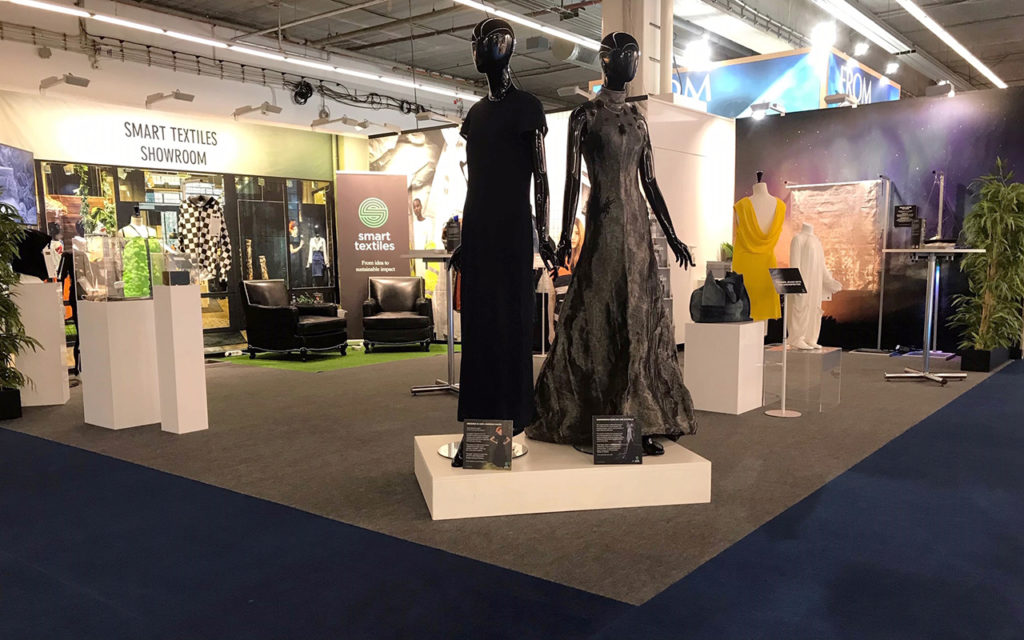 Highlighted prototypes
Delia Dumitrescu, head of Smart Textiles Design Lab and professor of textile design at the University of Borås, showed the latest research results from the Swedish School of Textiles. The acclaimed prototypes with metal wire, integrated fiber optics and photochromic color printing showed how by combining textile in different materials and with different techniques one can create changing pattern images.
Together with TEKO, which is the industry and employer organization for Swedish textile and fashion companies, Smart Textiles also arranged an industry mix in the booth where there were many Swedish textile companies who took the opportunity to meet and network.
---
Read more
TechTextil, where TechProcess is included, is one of the world's largest trade fairs for technical textiles. The 2019 fair took place on May 14-17 and had 1,818 exhibitors from 59 countries and a total of 47,000 visitors from 116 countries.
Read more about TechTextil 2019

Read more about Smart Textiles Showroom