Innovation and smart textiles move forward as EU projects wrap up
Pants with applied airbag technology, garments that monitor human joint movements, and gloves that enhance grip strength: these are just some of the projects and innovations discussed during the live national final seminar of the EU-funded SmartX accelerator program, in which Smart Textiles is a partner.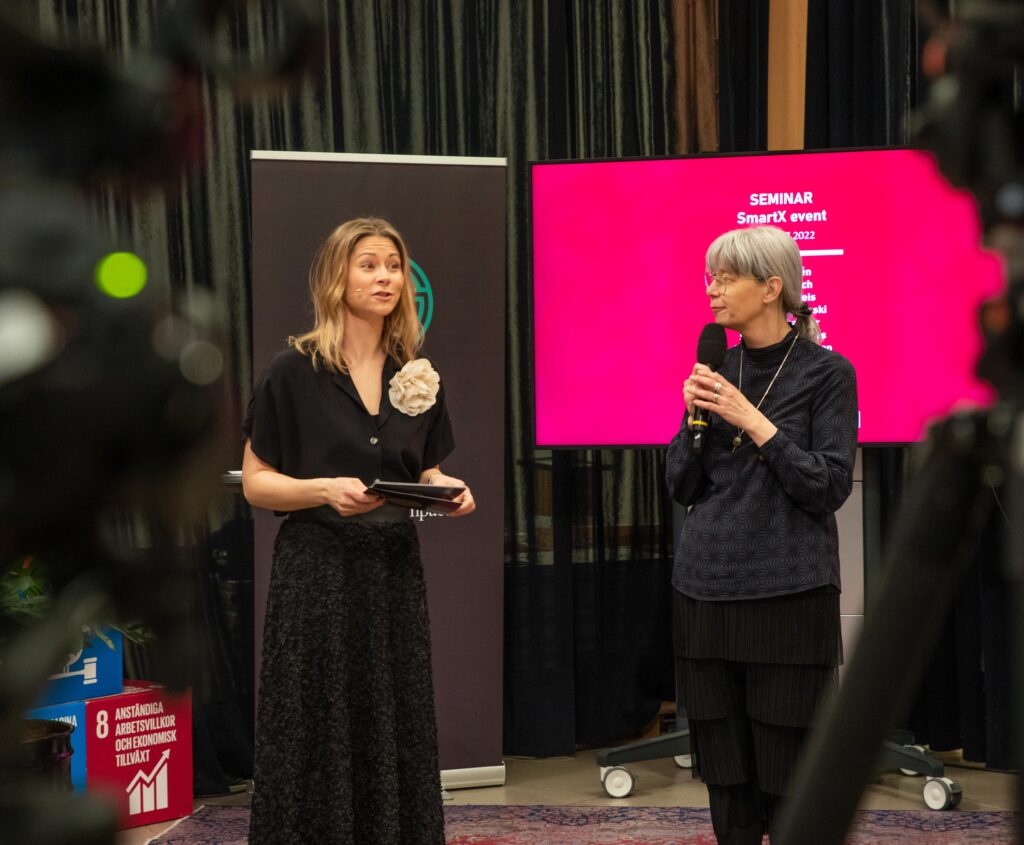 On March 17th, researchers, companies, and project managers from across Europe met digitally to take stock of the three-year SmartX accelerator program, which has supported companies and start-ups with both coaching and funding to bring their smart prototypes closer to the market.
As many as 13 actors from seven different European countries have been part of the team. From the Swedish side, Smart Textiles has been the project partner, with a team consisting of Business Innovation Coordinators Lena-Marie Jensen and Linda Nydén and Research Assistant Amelie Olesen.
"SmartX has shown how important collaboration is for building value chains in Europe. It has been an interesting and enjoyable project to be a part of and the best thing is that the community will be around after the project ends," said Lena-Marie Jensen. She continued, "What I think is amazing is the benefits people can get from smart textiles, from protective gear in motorcycle clothing to being someone's ears and eyes. During the final seminar we saw great examples of this."
Strengthened textile innovation
SmartX has a turnover of nearly SEK 50 million, most of which has been used to fund hundreds of projects worldwide with the aim of transforming value chains and strengthening research in textile innovation. A total of 25 projects have won awards, which, according to Judith Bosch, Project Leader at the European Technology Platform (ETP), which coordinates SmartX, demonstrates a powerful impact in the field now and in the future.
The moderator for the day was Marie Widén, who was previously part of the Swedish SmartX team.
"The final seminar revealed a wealth of inspiring content and great results from the projects presented. The agenda consisted of a mix of speakers from different sectors, thus representing a broad spectrum of textile innovation. Given the power and influence of SmartX, I hope the projects will succeed in provoking even more development in the smart textile field," said Marie Widén.
More about the program
SmartX is a three-year EU-funded program that gives SMEs and start-ups in Europe the opportunity to apply for project funding and to receive support from coaches in the program. A total of 13 partners from seven different European countries have joined the SmartX consortium. The aim of the program has been to promote the marketability of smart textiles and wearables.