From tape to bikini top – digital exams in the Do-tank Center
On Wednesday, some of the students at the Swedish School of Textiles presented their degree projects in the Do-tank Center, both digitally and for a small crowd on site. Corona or no, the students were successful in presenting their work through lively displays in both word and deed. Spectators saw, among other things, how ordinary tape can be transformed into fabric, as well as how old clothes cam be given a new life through upcycling.
A handful of people were present in the Do-tank Center on Wednesday when textile engineering students presented their degree projects. Although most of the external examiners and guests were at a distance, the atmosphere showed that this has somehow become the new normal. By now, we have become accustomed to digital meetings and to staying at an arm's length from one another. All presentations were filmed and broadcast via Zoom, where both friends, examiners, and supervisors participated.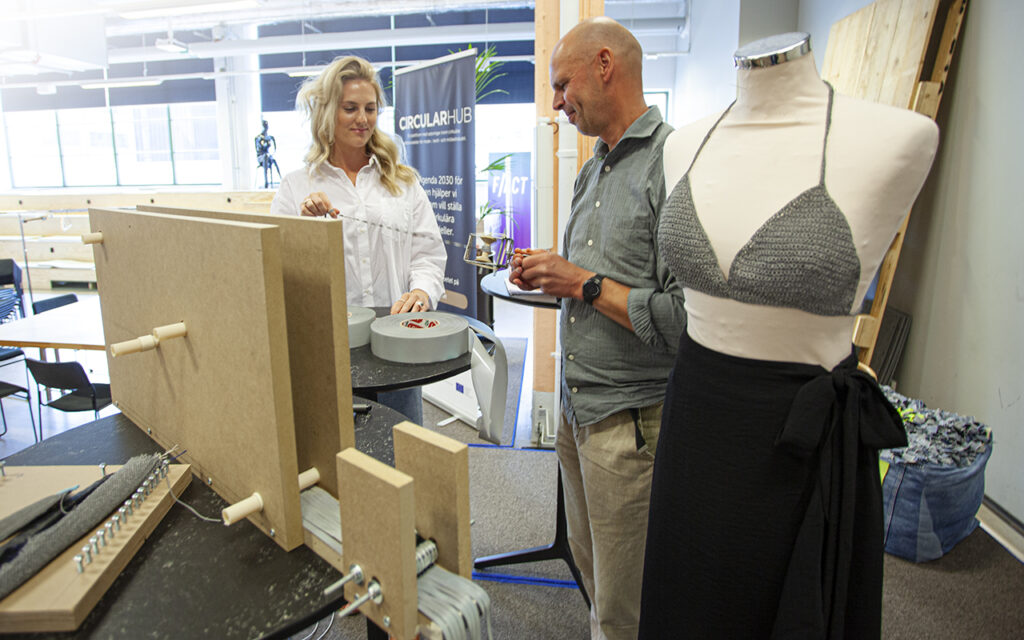 Göran Johansson and Fanny Anonsen, both Textile Engineering students who were satisfied with the new digital set-up, showed off their work From Tape to Fabric, which was carried out on behalf of Smart Textiles.
"The idea itself was, as our working title says, to look at simple mechanical processes in order to transform a tape roll into a fabric that can be used. The idea was also that our work should to some extent form the basis for full-scale production, so a lot of focus has been placed on creating different tools to shred and process the tape so that it can be worked with," says Fanny Anonsen.
Göran Johansson continues:

"From 15 meters of tape we managed to get 200 meters of yarn, but of course we have shredded it quite roughly. The result has been, among other things, a bikini top and some fabric samples that are both reflective and elastic. A possible use could therefore simply be reflective details on clothes."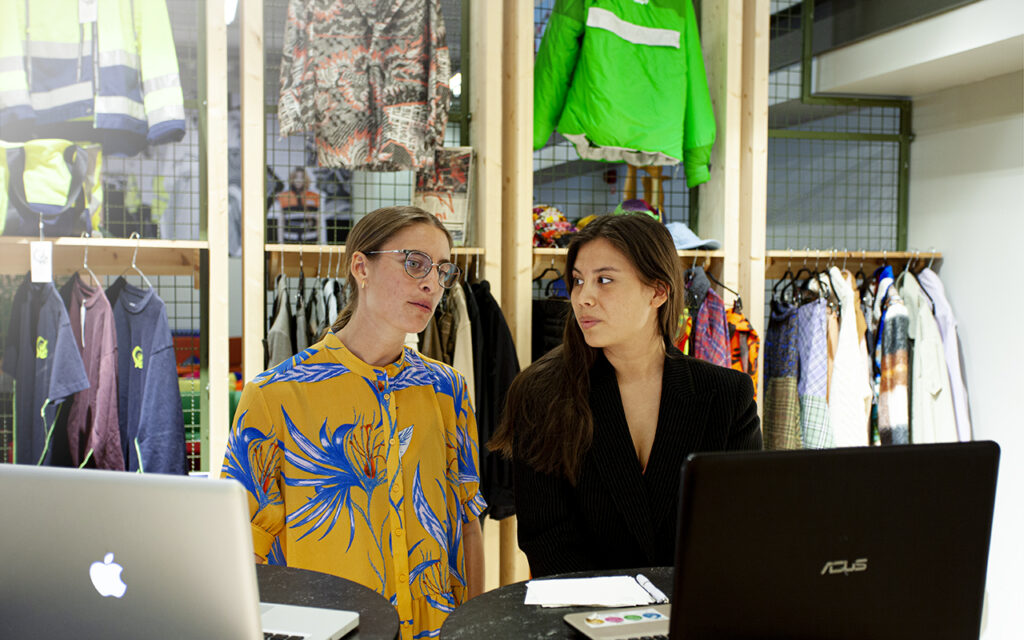 Another group that had the honor of presenting their work in the Do-tank Center were two other Textile Engineering students, namely Andrea Runstrand and Ida Aguilar Johansson. Their work Obstacles in the upcycling chain, was commissioned by re:textile and XV production.
"We explored the communication and the processes that occur in the textile value chain, with a focus on upcycling companies. Upcycling can be described as an upgrade of, to take this example, clothes, in which old garments are re-examined or modified for reuse, rather than being simply recycled," says Ida Aguilar Johansson.
"It can be clothes that have been returned or overproduced that can simply be re-sewn into something new, in a simple way. During our work, we discovered a lot of shortcomings such as the lack of product specifications to be able to handle the garment more easily. By, to some extent, standardizing the processes and being clearer when it comes to communication, we believe that it will be easier for more companies to be able to engage in upcycling, either from their own productions or used clothes," Andrea Runstrand continues.
---