Smart fabric replaces human abilities – soon a reality
Recently representatives from Offenburg University in Germany and the University of Borås met in the DO-tank Center for a two-day workshop, as part of the EU project SUITCEYES where Smart Textiles contributes with a central textile part. The project aims to develop a textile system for haptic communication, which is intended to be used by people with deafblindness.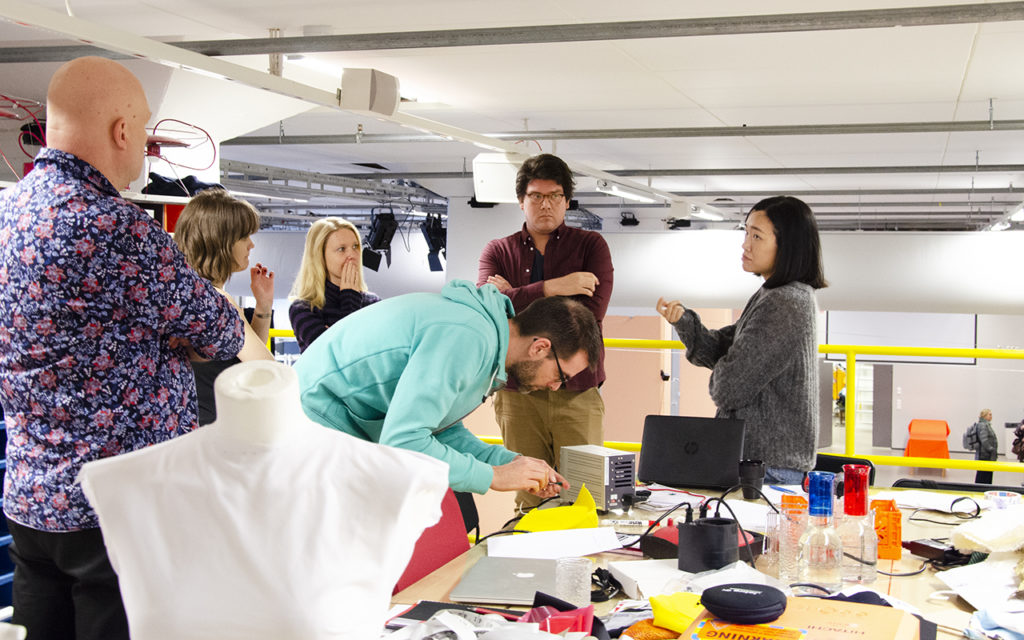 SUITCEYES is a large European interdisciplinary project involving five universities and two companies, one of which is the University of Borås together with Smart Textiles. The assignment spans more than three years and is set to be completed by the end of 2020/2021, with the hope of having a functioning platform for haptic communication for people suffering from deafblindness.

Nils-Krister Persson, associate professor at the Swedish School of Textiles, thinks that we may, for the first time, have the competence to really produce a smart textile that will assist people with disabilities, where the fabric replaces the senses such as vision and hearing.

– It is a highly multidisciplinary project that includes a wide range of competencies, from sensors and image analysis to psychophysics and policies for disabled people. Smart Textiles contributes to the central, textile part where we design textile structures. In fact, for the first time, we are perhaps building a smart textile for real that can replace human abilities, says Nils-Krister.
–Today we looked at how the textile can integrate the electrical wiring needed and what tests we want to do in the future with people who will wear the garment, he continues.
The garment which was experimented with during the work shop, is a vest covered with a variety of electrical applications that are attached to the fabric. Arthur Theil and Lea Buchweitz, both researchers at Offenburg University, were part of the development and expertise of the hardware.
–We have sent the vest between us and Borås a few times and communication has mostly been on Skype. However, now that we are in the final stages of developing the prototype, we felt it was good to meet so we can squeeze, feel and solve the remaining questions by working our way up to solutions. It is a wonder that we got the vest on the flight and that it was not mistaken to be a bomb vest. Instead, we were questioned for a package of toothpaste that we had to get rid of, Arthur and Lea says.

Research assistant Eva Lindell, who was also present at the workshop, agrees with Arthur and Lea. She thinks the project is headed for a bright future. In addition to her, Mathias Bräck, innovation technician at DO-tank Center and Li Guo, a researcher at the Swedish School of Textiles, also participated.
– I think we have managed to get a better picture of the electronic system by discussing the design in depth. I believe that in the near future we will develop a prototype that we can test together with the intended customer group. It will be very exciting to follow the results from there, says Eva.